If we remain focused outwardly and enthralled with intellectualizing the view, this is exactly what is meant when the Great Perfection speaks of being "spoiled by concepts and fabrication."

If we direct our mind outwardly while learning teachings on the view, this is exactly what will happen. But if we look within, into our own mind, we will certainly gain actual experience through the oral instructions of our teachers. We will practice in accordance with the buddhadharma and gain true experience and realization.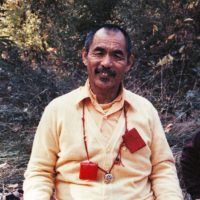 Nyoshul Khen Rinpoche
from the book
The Fearless Lion's Roar: Profound Instructions on Dzogchen, the Great Perfection
translated by
David Christensen
Read a
random quote
or see
all quotes
by Nyoshul Khen Rinpoche.