The practice of all the bodhisattvas is to arouse bodhicitta,
So as to bring freedom to all sentient beings, infinite in number.
For how can true happiness ever be found while our mothers,
Who have cared for us throughout the ages, endure such pain?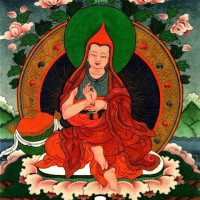 Gyelse Tokme Zangpo
The Thirty-Seven Practices of All the Bodhisattvas
translated by
Adam Pearcey
source:
http://www.lotsawahouse.org/tibetan-masters/gyalse-thogme-zangpo/37-practices-all-bodhisattvas
Read a
random quote
or see
all quotes
by Gyelse Tokme Zangpo.