In the spirit of where there is a demand, there is supply, we should have aspirations and longing for the appearance of the Buddhas and bodhisattvas to never to cease, and — to put it in a trendy term — their swift rebirth. But this rebirth should not be limited to a Tibetan child who has been raised in a particular culture or tradition. We can wish for Buddha's rebirth in all forms, even as something seemingly insignificant as the breeze, to remind us of the values of love and compassion and tolerance. We must aspire to galvanize myriad manifestations of the Buddha, not just throne-hopping, Rolls Royce-driving tulkus who are a product of nepotism.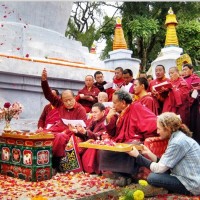 Dzongsar Khyentse Rinpoche
source:
https://www.facebook.com/pages/Dzongsar-Jamyang-Khyentse/158696727489150
Read a
random quote
or see
all quotes
by Dzongsar Khyentse Rinpoche.