To have subordinates, wealth, a retinue, good fortune and
Fame spreading through the whole world –
At the time of death all this is of no benefit.
'To be diligent in one's practice' is my heart advice.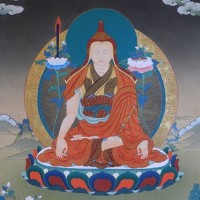 Longchenpa
Thirty Pieces of Heart Advice
translated by
Daniela Hartmann
source:
http://www.lotsawahouse.org/tibetan-masters/longchen-rabjam/30-stanzas-of-advice
Read a
random quote
or see
all quotes
by Longchenpa.