It's crucial for us to become good people. If we are not, then how could we say we're Buddhist? We need to reflect: What kind of person am I? If you're making a golden vase, first you have to see if the material is real gold. If it's brass, then you're not making a gold vase. To become a good Buddhist, you have to become a good human being. It doesn't mean that you have no anger or jealousy, for example, but that you have decreased the negative emotions. Otherwise, it's a sham: you have the name of a Buddhist, but have not transformed yourself. Nobody can change us. We have to talk to and instruct ourselves about the right way, then change will happen.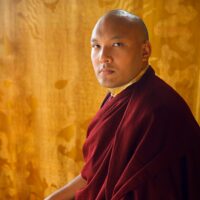 17th Karmapa
source:
http://www.kagyumonlam.org/
Read a
random quote
or see
all quotes
by the 17th Karmapa.