At the time of the meditation of tranquil stillness and true seeing, although this meditation is not the basic nature of clarity and emptiness just as it is, it is the arising of an aspect of experience that is similar, like the way the form of the sky appears in water. This is called an example demonstrating clear light. The essential nature of wisdom is free from the coverings of experience, like stainless sky. When this is realized, it is called absolute clear light.

By realizing the basic nature of the great bliss of the clear light of empty awareness and by continuously sustaining it, when one actually accomplishes the stages of the path, the consciousness of the five senses will dissolve into mind. Mind will dissolve into the consciousness of alaya. When alaya dissolves into the dharmata of empty clear light, even though there is no consciousness, because consciousness is purified from the root, self-awareness wisdom light will arise like stainless sky. Thus it is also said. For example, when gold mixed with earth, stone, sand, and so on is melted down and refined, the power of the ordinary stain or nature of the elements of earth and stone is reduced more and more, like the gross energy of obscurations, and the quality of the element gold is purified more and more. Eventually the time will come when even the object of purification, the gold itself, will be purified and there will be nothing left.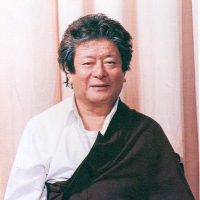 Thinley Norbu Rinpoche
from the book
A Cascading Waterfall of Nectar
Read a
random quote
or see
all quotes
by Thinley Norbu Rinpoche.