Compassion for the "other," whether people, animal species, trees, or other plants, and for Earth itself, is the only thing that will ultimately save us human beings. Most people are primarily concerned about their work, wealth, health, or family. On a daily basis, they probably feel they have more urgent things to worry about than their environmental footprint. Of course, paying attention to this issue would mean having to make inconvenient choices and changes in their lives. I am not so different. Although I had considered giving up eating meat for many years, I became a complete vegetarian only a few years ago. Somebody presented a short documentary that showed how animals suffer before and during the act of killing. Watching it, I could feel the fear felt by the animals. Like a thunderclap, I became aware that these living beings were suffering so greatly simply to satisfy my habitual preferences. Eating meat became intolerable for me at that moment, and so I stopped.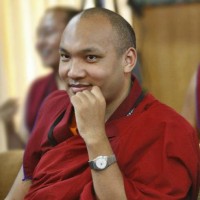 17th Karmapa
source:
Gyalwang Karmapa: Talk at 23rd Mind & Life conference – Ecology, Ethics & Interdependence
Read a
random quote
or see
all quotes
by the 17th Karmapa.