In order to cut the root of basic confusion, one should rest in the natural state without altering it. Once one is resting in the genuine natural state, one should neither follow one's thoughts nor search for an antidote for them. If the intrinsic nature is left in its natural state, as it is said, 'When water is not stirred, will become clear', Just as dirty water, if not stirred, will become clear, if the nature of mind is left unaltered, as it is, deluded thoughts will automatically clear up. The natural flow of the intrinsic nature will come automatically.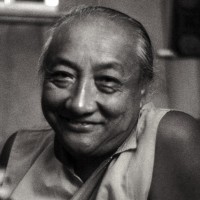 Dilgo Khyentse Rinpoche
from the book
The Collected Works of Dilgo Khyentse, Volume Three
Read a
random quote
or see
all quotes
by Dilgo Khyentse Rinpoche.