The bardo of death is a successive process. Our physical body is an aggregation of flesh, blood, etc. and deteriorates at death. Mind, on the other hand, does not die since it isn't composed of particles. The physical components of our body are formed at birth and disintegrate at death. Our physical body only functions as long as it is sustained by our mind. Every physical body is dependent upon many causes and conditions and is only appropriated in dependence upon them. For this reason, our body is subject to decay and collapses in the absence of our mind, our consciousness. Mind, which isn't an aggregation of particles, doesn't cease when it leaves the body. Its nature is clarity and awareness.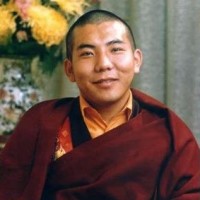 3rd Jamgon Kongtrul Rinpoche
source:
http://www.dharmadownload.net/pages/english/Natsok/0010_Teaching_English/Teaching_English_0067.htm
Read a
random quote
or see
all quotes
by the 3rd Jamgon Kongtrul Rinpoche.