If we are spiritual practitioners we feel contempt for samsaric situations; we are not seriously or deeply interested in them. This does not mean that we feel disgust for or reject everything. In our life, all is relative. In our life, not everything is how it should be, nonetheless we continue to live. We accept and integrate the various circumstances of life. This is part of our awareness. To accept everything with awareness is different from being completely attached. Some people have an exaggerated liking for this or that: this is attachment. However, it does not mean that if you are a good practitioner you cannot have likings. You can like and enjoy with awareness. In the samsaric condition, we possess five or six senses, and with the senses we enjoy contact with objects. When we see an object, a flower for example, we may like it. We observe its beauty and smell its fragrance. We enjoy looking and smelling. To enjoy with awareness means to know the real nature of the object and not become attached to it. In this way, we enjoy without having negative consequences. If we are not aware, we become distracted with our liking for the flower; we want to possess the flower and attempt to have it. Thus, attachment increases, releasing all other emotions, with the ensuing negative karma. In brief, if one is aware and undistracted the enjoyment of the senses does not pose any problem. If one is distracted, enjoyment always bears negative consequences, even if things appear joyful and gratifying. For that reason, the teaching says that all is illusion. When we see a nice object and we become attached, we resemble a moth which, attracted by a flame at night, flies into it, burns, and dies.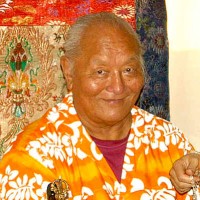 Namkhai Norbu Rinpoche
from the book
Longchenpa's Advice from the Heart
Read a
random quote
or see
all quotes
by Namkhai Norbu Rinpoche.