Whenever I wish to move,
Or to speak,
First I shall examine my mind,
And firmly act in a suitable way.

Whenever my mind becomes attached,
Or angry,
I shall not act, nor shall I speak.
I shall remain like a piece of wood.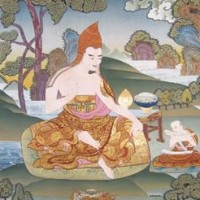 Shantideva
Bodhicaryāvatāra
quoted in the book
Tibetan Buddhism from the Ground Up: A Practical Approach for Modern Life
Read a
random quote
or see
all quotes
by Shantideva.