That is the key: through understanding emptiness one is able to overcome attachment, clinging, and grasping. The Bodhisattva seeks to overcome attachment, not so as to become detached or indifferent to the world, but in order to get even more involved with the world. There is no longer that duality existing between the Bodhisattva and others — between the self and the world — because the self and the world both have the same nature, which is emptiness. Therefore, Bodhisattvas are able to execute their compassionate activities in a much more beneficial and far-ranging manner.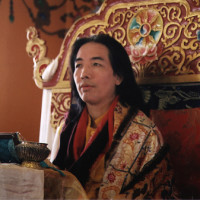 Traleg Kyabgon Rinpoche
from the book
The Essence of Buddhism: An Introduction to Its Philosophy and Practice
Read a
random quote
or see
all quotes
by Traleg Kyabgon Rinpoche.