It's of great importance that we practise the Dhamma. If we don't practise, then all our knowledge is only superficial knowledge, just the outer shell of it. It's as if we have some sort of fruit but we haven't eaten it yet. Even though we have that fruit in our hand we get no benefit from it. Only through the actual eating of the fruit will we really know its taste.

The Buddha didn't praise those who merely believe others, he praised the person who knows within himself. Just as with that fruit, if we have tasted it already, we don't have to ask anyone else if it's sweet or sour. Our problems are over. Why are they over? Because we see according to the truth. One who has realized the Dhamma is like one who has realized the sweetness or sourness of the fruit. All doubts are ended right here.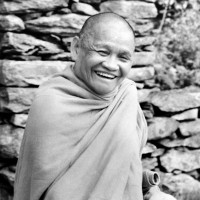 Ajahn Chah
source:
http://www.ajahnchah.org/book/Peace_Beyond1.php
Read a
random quote
or see
all quotes
by Ajahn Chah.