For however long I have left to live,
May I be devoted to the Dharma from the very core of my being,
And may whatever I do, say or think,
Be directed only to beings' good,
Never entangled in selfish desires!

May I set out upon the path to liberation,
And, mounting the steed of bodhicitta,
May I lead all beings to happiness!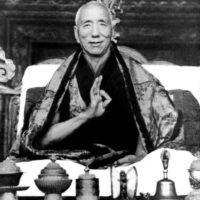 Jamyang Khyentse Chökyi Lodrö
source:
http://www.lotsawahouse.org/tibetan-masters/jamyang-khyentse-chokyi-lodro/advice-to-myself
Read a
random quote
or see
all quotes
by Jamyang Khyentse Chökyi Lodrö.