If we look according to reality, without trying to sugar things over, we'll see that it's really pitiful and wearisome. Dispassion will arise. This feeling of 'disinterest' is not that we feel aversion for the world or anything; it's simply our mind clearing up, our mind letting go. We see things as not substantial or dependable, but that all things are naturally established just as they are. However we want them to be, they just go their own way regardless. Whether we laugh or cry, they simply are the way they are. Things which are unstable are unstable; things which are not beautiful are not beautiful.

So the Buddha said that when we experience sights, sounds, tastes, smells, bodily feelings or mental states, we should release them. When the ear hears sounds, let them go. When the nose smells an odour, let it go…just leave it at the nose! When bodily feelings arise, let go of the like or dislike that follow, let them go back to their birth-place. The same for mental states. All these things, just let them go their way. This is knowing. Whether it's happiness or unhappiness, it's all the same. This is called meditation.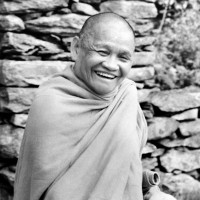 Ajahn Chah
source:
http://www.ajahnchah.org/book/Peace_Beyond1.php
Read a
random quote
or see
all quotes
by Ajahn Chah.