To rejoice in others' happiness without any preferences of our own shows that we understand that the longing for happiness is the same for all beings. We can rejoice in their temporal happiness, which has come from their accumulation of merit. When we recognize the quality of happiness in others—when we see someone genuinely smile or laugh or see a glimmer of brightness in their eyes — we can rejoice. When they obtain something they want or need, whatever it may be, we have an opportunity to practice rejoicing. Beings long for all kinds of things, some of which we might not want ourselves—but that doesn't matter. The important thing is that, if only for a single moment, it has brought them some happiness.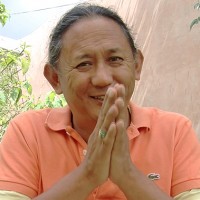 Dzigar Kongtrul Rinpoche
from the book
Light Comes Through: Buddhist Teachings on Awakening to Our Natural Intelligence
Read a
random quote
or see
all quotes
by Dzigar Kongtrul Rinpoche.