The great Jigme Lingpa said that when a yogi pursues the path of enlightenment, he could spend years and years accumulating merit through all kinds of methods, but meditation that lasts the duration of a cup of tea is more penetrating to this solid hard wrapping of ours. Spending years and years in meditation is excellent, but it is nothing compared to a single moment of remembering the guru. Even just remembering the guru's name will dispel confusion and accumulate countless oceans of merit.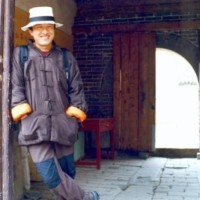 Dzongsar Khyentse Rinpoche
source:
http://chronicleproject.com/tributes/5.html
Read a
random quote
or see
all quotes
by Dzongsar Khyentse Rinpoche.