In terms of the nature of mind, the true nature of mind, I don't know what I could say about that. It's just there. Usually we think of the true nature of mind as something really high, and although I haven't done a lot of practice in relation to the true nature of mind, if I speak from my own experience of this, I could say that eventually we will return to what we were bored with in the beginning and discover that was it.

So we start off by thinking that what we have right now is too simple, too ordinary. The true nature of mind must be something special, something high, something prettier than what we have now. And what we have now doesn't really satisfy our desires, it's not very attractive to us, but if you put some serious effort into your practice, then eventually I think that recognizing the true nature of mind means returning to that place where you started with — your boring unattractive, not new, not high, mental state — and actually recognize that it has been what you're looking for.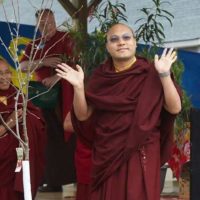 17th Karmapa
source:
http://kagyuoffice.org/his-holiness-the-karmapa-speaks-on-compassion-and-the-nature-of-mind-on-the-eve-of-his-departure-to-india/
Read a
random quote
or see
all quotes
by the 17th Karmapa.