Normally the mind isn't still, it's moving all the time. We must strengthen the mind. Making the mind strong and making the body strong are not the same. To make the body strong we have to exercise it, to push it, in order to make it strong, but to make the mind strong means to make it peaceful, not to go thinking of this and that. For most of us the mind has never been peaceful, it has never had the energy of samādhi, so we must establish it within a boundary. We sit in meditation, staying with the 'one who knows'.

If we force our breath to be too long or too short, we're not balanced, the mind won't become peaceful. It's like when we first start to use a pedal sewing machine. At first we just practise pedalling the machine to get our coordination right, before we actually sew anything. Following the breath is similar. We don't get concerned over how long or short, weak or strong it is, we just note it. We simply let it be, following the natural breathing.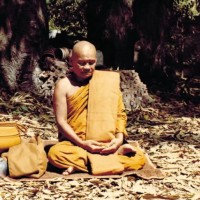 Ajahn Chah
source:
http://ajahnchah.org/book/On_Meditation1.php
Read a
random quote
or see
all quotes
by Ajahn Chah.