But if, through fundamental misperception of reality, the individual enters into the confusion of dualism, primordial consciousness, which is in fact the source of all manifestation (even of dualistic consciousness and, in fact, of all phenomena), itself becomes obscured. The individual's deluded mind then mistakes the manifestations of its own pure, innate primordial awareness for an external reality existing separately from itself, which it endlessly, and ultimately unsuccessfully, attempts to manipulate, trying in vain to bring an end to the continual underlying sense of dissatisfaction and unease which is the inevitable experience of the obscuration of pure awareness. The experience of underlying dissatisfaction (or 'dukha' in Sanskrit) that unavoidably arises with a deluded mind, continues, no matter how 'successful' the individual becomes in dealing with his or her world in materialistic terms, until the individual regains the experience of the primordial state.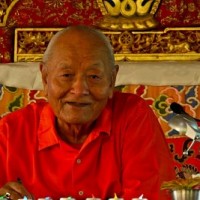 Namkhai Norbu Rinpoche
from the book
The Crystal And The Way Of Light: Sutra, Tantra And Dzogchen
Read a
random quote
or see
all quotes
by Namkhai Norbu Rinpoche.