If we grasp at the (five) aggregates, we are grasping at self.
If we grasp at self, from that (arises) karma, and from (karma arises) birth.
Through these three, without a beginning, middle, or end,
Revolves the fire-brand circle of samsara
By depending on each other as the cause.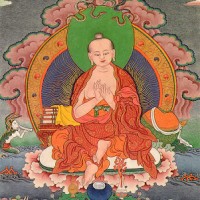 Nagarjuna
source:
http://www.lionsroar.com/the-power-of-positive-karma/
Read a
random quote
or see
all quotes
by Nagarjuna.