What is the particular view that Buddhists try to get used to? Buddhism is distinguished by four characteristics, or "seals." Actually, if all these four seals are found in a path or a philosophy, it doesn't matter whether you call it Buddhist or not. You can call it what you like; the words "Buddhist" or "Buddhism" are not important. The point is that if this path contains these four seals, it can be considered the path of the Buddha.

Therefore, these four characteristics are called "the Four Seals of Dharma." They are:

All compounded things are impermanent.

All emotions are painful. This is something that only Buddhists would talk about. Many religions worship things like love with celebration and songs. Buddhists think, "This is all suffering."

All phenomena are empty; they are without inherent existence. This is actually the ultimate view of Buddhism; the other three are grounded on this third seal.

The fourth seal is that nirvana is beyond extremes.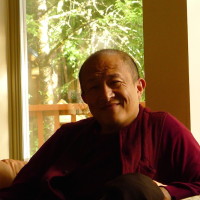 Dzongsar Khyentse Rinpoche
source:
http://www.lionsroar.com/buddhism-nutshell-four-seals-dharma/
Read a
random quote
or see
all quotes
by Dzongsar Khyentse Rinpoche.