Meditation means to make the mind peaceful in order to let wisdom arise. This requires that we practise with body and mind in order to see and know the sense impressions of form, sound, taste, smell, touch and mental formations. To put it shortly, it's just a matter of happiness and unhappiness. Happiness is pleasant feeling in the mind, unhappiness is just unpleasant feeling. The Buddha taught to separate this happiness and unhappiness from the mind. The mind is that which knows. Feeling2 is the characteristic of happiness or unhappiness, like or dislike. When the mind indulges in these things we say that it clings to or takes that happiness and unhappiness to be worthy of holding. That clinging is an action of mind, that happiness or unhappiness is feeling.

When we say the Buddha told us to separate the mind from the feeling, he didn't literally mean to throw them to different places. He meant that the mind must know happiness and know unhappiness. When sitting in samādhi, for example, and peace fills the mind, then happiness comes but it doesn't reach us, unhappiness comes but doesn't reach us. This is to separate the feeling from the mind. We can compare it to oil and water in a bottle. They don't combine. Even if you try to mix them, the oil remains oil and the water remains water, because they are of different density.

The natural state of the mind is neither happiness nor unhappiness. When feeling enters the mind then happiness or unhappiness is born. If we have mindfulness then we know pleasant feeling as pleasant feeling. The mind which knows will not pick it up. Happiness is there but it's 'outside' the mind, not buried within the mind. The mind simply knows it clearly.

If we separate unhappiness from the mind, does that mean there is no suffering, that we don't experience it? Yes, we experience it, but we know mind as mind, feeling as feeling. We don't cling to that feeling or carry it around. The Buddha separated these things through knowledge. Did he have suffering? He knew the state of suffering but he didn't cling to it, so we say that he cut suffering off. And there was happiness too, but he knew that happiness, if it's not known, is like a poison. He didn't hold it to be himself. Happiness was there through knowledge, but it didn't exist in his mind. Thus we say that he separated happiness and unhappiness from his mind.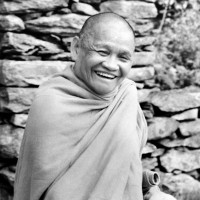 Ajahn Chah
source:
http://www.ajahnchah.org/book/Peace_Beyond1.php
Read a
random quote
or see
all quotes
by Ajahn Chah.