When unwanted things befall you,
Rid yourself of your displeasure.
For if there is a remedy,
What need is there for it?

And if no change is possible,
What point is there in useless irritation?
Therefore simply bear with all that may befall you.
When examined, there is only space-like emptiness.

There's no happiness or sadness and no loss or gain.
There is neither good nor bad —
What use is there in such dualistic grasping?
Strive to bring all things into the state of evenness.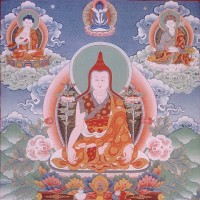 Longchenpa
from the book
Finding Rest in the Nature of the Mind: The Trilogy of Rest, Volume 1
Read a
random quote
or see
all quotes
by Longchenpa.