Patience is essentially the ability to bear with suffering. It is the fertile soil in which the flowers of Dharma (in other words, the three disciplines) can grow and spread their perfume of good qualities. Encircling these flowers like a protective fence are the three kinds of patience. The first is the patience to bear the sufferings and difficulties that occur while one is striving for the twofold goal: Buddhahood for one's own sake and the accomplishment of the welfare of others. The second kind of patience is the ability to put up with the injuries that others might inflict, while the third kind is the ability to confront, without fear or apprehension, the doctrine of emptiness and other profound teachings.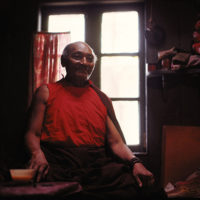 Kangyur Rinpoche
source:
https://www.matthieuricard.org/en/thoughts/71
Read a
random quote
or see
all quotes
by Kangyur Rinpoche.