The three poisons continually arise in connection with three objects. Compulsive attachment arises for objects that are pleasant or useful; aversion arises for objects that are unpleasant or harmful; and stupidity or indifference for other objects. Recognize these poisons as soon as they arise. Then, for example, when attachment arises, think:

"May every bit of every sentient beings' attachment be contained in this attachment of mine. May all sentient beings have the seed of virtue of being free of attachment. May this attachment of mine contain all their disturbing emotions and, until they attain buddhahood, may they be free of such disturbing emotions."

Aversion and other emotions are used in practice by working with them the same way. Thus, the three poisons become three limitless seeds of virtue.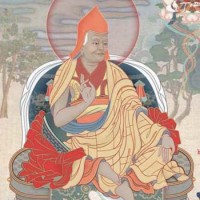 Jamgon Kongtrul Lodro Thaye
from the book
The Great Path of Awakening
translated by
Ken McLeod
Read a
random quote
or see
all quotes
by Jamgon Kongtrul Lodro Thaye.