Trying to find a Buddha or enlightenment is like trying to grab space. Space has a name but no form. It's not something you can pick up or put down. And you certainly can't grab it. Beyond this mind you'll never see a Buddha. The Buddha is a product of your mind. Why look for a Buddha beyond this mind?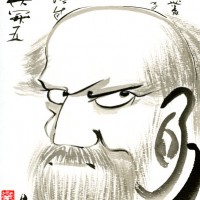 Bodhidharma
from the book
The Zen Teaching of Bodhidharma
translated by
Red Pine
source:
http://www.abuddhistlibrary.com/Buddhism/C%20-%20Zen/Ancestors/The%20Zen%20Teachings%20of%20Bodhidharma/The%20Zen%20Teachings%20of%20Bodhidharma/THE%20ZEN%20TEACHINGS%20OF%20BODHIDHARMA.htm
Read a
random quote
or see
all quotes
by Bodhidharma.