There is a difference between watching the mind and controlling the mind. Watching the mind with a gentle, open attitude allows the mind to settle down and come to rest. Trying to control the mind, or trying to control the way that one's spiritual practice will unfold, just stirs up more agitation and suffering.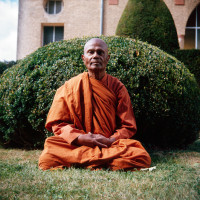 Bhante Gunaratana
from the book
Eight Mindful Steps to Happiness: Walking the Buddha's Path
Read a
random quote
or see
all quotes
by Bhante Gunaratana.