We're all buddhas. We just don't recognize it. We are confined in many ways to a limited view of ourselves and the world around us through cultural conditioning, family upbringing, personal experience, and the basic biological predisposition toward making distinctions and measuring present experience and future hopes and fears against a neuronal warehouse of memories.

Once you commit yourself to developing an awareness of your buddhanature, you'll inevitably start to see changes in your day-to- day experience. Things that used to trouble you gradually lose their power to upset you. You'll become intuitively wiser, more relaxed, and more openhearted. You'll begin to recognize obstacles as opportunities for further growth. And as your illusory sense of limitation and vulnerability gradually fades away, you'll discover deep within yourself the true grandeur of who and what you are.

Best of all, as you start to see your own potential, you'll also begin to recognize it in everyone around you. Buddhanature is not a special quality available to a privileged few. The true mark of recognizing your buddhanature is to realize how ordinary it really is—the ability to see that every living creature shares it, though not everyone recognizes it in him- or herself. So instead of closing your heart to people who yell at you or act in some other harmful way, you find yourself becoming more open. You recognize that they aren't "jerks," but are people who, like you, want to be happy and peaceful. They're only acting like jerks because they haven't recognized their true nature and are overwhelmed by sensations of vulnerability and fear.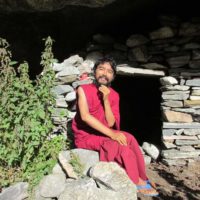 Mingyur Rinpoche
source:
https://www.lionsroar.com/we-always-have-joy
Read a
random quote
or see
all quotes
by Mingyur Rinpoche.