Just as a grammarian first has students
Read a model of the alphabet,
Buddha taught students
The doctrine that they could bear.

To some he taught doctrines
To turn them away from ill-deeds.
To some, for the sake of achieving merit.
To some, doctrines based on duality.

To some, doctrines based on non-duality.
To some, what is profound and frightening to the fearful –
Having an essence of emptiness and compassion –
The means of achieving unsurpassed enlightenment.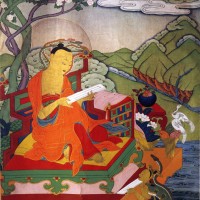 Nagarjuna
Precious Garland (stanzas 394-396)
quoted in the book
Tsong-kha-pa's Final Exposition of Wisdom
translated by
Jeffrey Hopkins
Read a
random quote
or see
all quotes
by Nagarjuna.