Whatever is dependently arisen,
That is explained to be emptiness,
That, being a dependent designation
Is itself the middle way.

Something that is not dependently arisen,
Such a thing does not exist.
Therefore a nonempty thing
does not exist.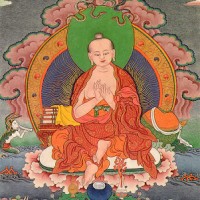 Nagarjuna
Mūlamadhyamakakārikā
from the book
The Fundamental Wisdom of the Middle Way: Nagarjuna's Mulamadhyamakakarika
translated by
Jay L. Garfield
Read a
random quote
or see
all quotes
by Nagarjuna.