We may set too high of a bar for ourselves when we contemplate Buddhist teachings about working for the benefit of all sentient beings. I don't think it's really possible to arrive at a time when you'll be able to say to yourself that you are now accomplishing the benefit of all sentient beings. It's more a matter of dealing with what's directly in front of you in terms of the experiences of happiness and suffering that you – and the sentient beings you are connected with – are going through.

I think you can meet situations of suffering with an open heart and a readiness to do whatever you can to reduce the suffering of sentient beings, to free sentient beings from suffering. Or in the same way, be ready to do anything you can to further the happiness of any given sentient being that you meet and to engage in this kind of conduct with a heart of joyfulness, cheerfulness and delight. This is really the meaning of accomplishing the benefit of all sentient beings.

So it's basically situation by situation and developing further the readiness to help, developing further this heart of wanting sentient beings to be free of suffering and to enjoy happiness in whatever situation they are in at the present. I think that's what 'accomplishing the benefit of all sentient beings' really means. I don't think that phrase means we are going to accomplish the benefit of every single sentient being at the same time.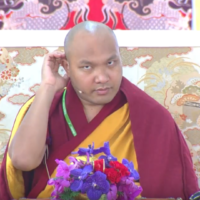 17th Karmapa
source:
http://kagyuoffice.org/his-holiness-the-karmapa-speaks-on-compassion-and-the-nature-of-mind-on-the-eve-of-his-departure-to-india/
Read a
random quote
or see
all quotes
by the 17th Karmapa.