Generally, there is a similarity between what we call Dharma practice and how to live our lives in a proper way. In our ordinary lives, separate from the Dharma, if we have many doubts and much confusion, our purpose or our objective is not very clear. If we do not have a clear stance and focus, then we find ourselves lost in confusion, concerns, and thoughts. In this way, life does not go very well.

Dharma practice is similar. First, we must have a very clear understanding. Our purpose, our objective, our view, our stand – we need to understand these unambiguously. Then our Dharma practice can become clear and easy. Otherwise our practice, mired in thoughts, becomes not Dharma practice at all, but rather a religion. It becomes a system. And when this happens, many things come with it: gods, ghosts, good, bad, different kinds of dogma, and other various occurrences. With this, the real practice is lost. In the application of Dharma, there are also views and concepts to a degree, but when we really apply the Dharma in our lives, it is unnecessary to understand much of the philosophy and such. It is certainly good if we understand them, but if we don't, that is also fine. The main thing is to work for the benefit of beings. And when that happens, we are applying the Dharma to our lives.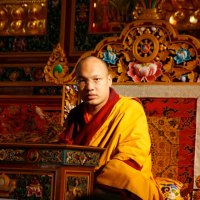 17th Karmapa
source:
http://www.kagyumonlam.org/english/Lectures/20090112_HHK_Teachings_Living_The_Dharma.html
Read a
random quote
or see
all quotes
by the 17th Karmapa.