Compassion is threatening to the ego. We might think of it as something warm and soothing, but actually it's very raw. When we set out to support other beings, when we go so far as to stand in their shoes, when we aspire to never close down to anyone, we quickly find ourselves in the uncomfortable territory of "life not on my terms." The second commitment, traditionally known as the Bodhisattva Vow, or warrior vow, challenges us to dive into these noncozy waters and swim out beyond our comfort zone.

Our willingness to make the first commitment is our initial step toward relaxing completely with uncertainty and change. The commitment is to refrain from speech and action that would be harmful to ourselves and others and then to make friends with the underlying feelings that motivate us to do harm in the first place. The second commitment builds on this foundation: we vow to move consciously into the pain of the world in order to help alleviate it. It is, in essence, a vow to take care of one another, even if it sometimes means not liking how that feels.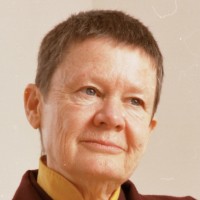 Pema Chödron
from the book
Living Beautifully with Uncertainty and Change
Read a
random quote
or see
all quotes
by Pema Chödron.