The teaching on precious human life shows us that this human body of ours has the potential to allow us to accomplish significant and vast things, not only for ourselves, but for many others. It points out just what an opportunity this human body represents. All human beings are fundamentally endowed with love, compassion and other positive qualities, not as products of religious practice, but as something present within us all right from birth. The most important thing, and the basis of Dharma practice, is for us to value these innate human qualities, and work to enhance and develop them.

Therefore, to be a Dharma practitioner does not imply becoming someone different. There is no need to become a strange or new person. Nor are we necessarily adopting a whole new lifestyle. Rather, we are bringing out the natural qualities inherent in us, within the life we are already leading. For this reason, Dharma practice is not something we do apart from, or outside of, our ordinary life.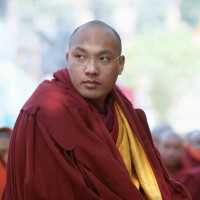 17th Karmapa
Nurturing Compassion: Teachings from the First Visit to Europe
source:
http://karmapafoundation.eu/kfe-publications/nurturing-compassion/
Read a
random quote
or see
all quotes
by the 17th Karmapa.