Our ideas about what it means to be a woman or a man – that is, our gender constructs – are given meaning and importance in our day-to-day reality. Gender identities permeate so much of our experience that it is easy to forget that they are just ideas – ideas created to categorize human beings. Nevertheless, the categories of masculine and feminine are often treated as if they were eternal truths. But they are not. They have no objective reality. Because gender is a concept, it is a product of our mind – and has no absolute existence that is separate from the mind that conceives of it. Gender categories are not inherently real in and of themselves.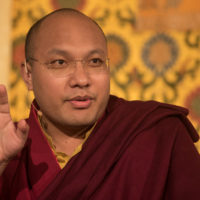 17th Karmapa
from the book
The Heart Is Noble: Changing the World from the Inside Out
Read a
random quote
or see
all quotes
by the 17th Karmapa.