Proper generosity is to give whatever we have and there are many wonderful, inspiring stories of great Bodhisattvas who have given their own flesh to nourish starving animals. Whatever we can manage to give, we give to those who need it, paying particular attention to help those who represent the Three Jewels, those who have helped us – our parents especially – whose who are sick and unprotected, and also those who are our particular enemies or rivals. The way in which we make our gift to them should be joyfully, respectfully, with a compassionate heart and without regret. It is better to give with one's own hand rather than through others, to give at just the right time, and, of course, to give without harming others. Impartial giving is best and a wise person gives just what is needed.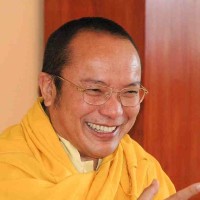 Tai Situ Rinpoche
Way To Go – Sawing The Seed Of Buddha
source:
https://namobuddhapub.org/zc/index.php?main_page=product_info&products_id=328
Read a
random quote
or see
all quotes
by Tai Situ Rinpoche.