Compassion is not about kindness. Compassion is about awareness. Compassion in the general sense of kindness would be an expression of awareness, but one that might not necessarily be free from the stain of ego-grasping. Genuine compassion is egoless. It is the inherent essence expressed, inseparable from awareness. This natural essence, which is genuine compassion, does not need to be formulated or even expressed as something like "compassion." We see this exemplified in our great teachers. Their genuine compassion does not require phrases and expressions or even actions. Just their presence, who they are, is nothing other than the quintessence of compassion.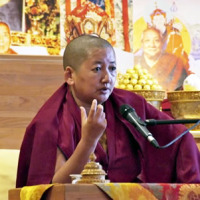 Khandro Rinpoche
from the book
Sacred Voices of the Nyingma Masters
source:
https://www.lionsroar.com/quintessence-of-compassion/
Read a
random quote
or see
all quotes
by Khandro Rinpoche.