I am determined not to speak when anger manifests in me.
I will practice mindful breathing and walking to recognize and look deeply into my anger.
I know that the roots of anger can be found in my wrong perceptions and lack of understanding of the suffering in myself and the other person.
I will speak and listen in such a way as to help myself and the other person to transform suffering and see the way out of difficult situations.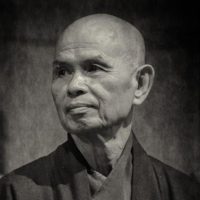 Thich Nhat Hanh
from the book
Mindful Eating, Mindful Life
Read a
random quote
or see
all quotes
by Thich Nhat Hanh.