When we analyze our experience, we have ideas of time or space, big or small, heavy or light. A scale of some kind is necessary, and with various scales in our mind, we experience things. Still the thing itself has no scale. That is something we add to reality. Because we always use a scale and depend on it so much, we think the scale really exists. But it doesn't exist. If it did, it would exist with things. Using a scale you can analyze one reality into entities, big and small, but as soon as we conceptualize something it is already a dead experience.

We "empty" ideas of big or small, good or bad from our experience, because the measurement that we use is usually based on the self. When we say good or bad, the scale is yourself. That scale is not always the same. Each person has a scale that is different. So I don't say that the scale is always wrong, but we are liable to use our selfish scale when we analyze, or when we have an idea about something. That selfish part should be empty. How we empty that part is to practice zazen and become more accustomed to accepting things as it is without any idea of big or small, good or bad.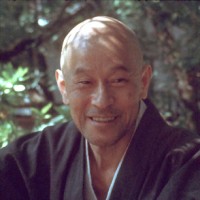 Shunryu Suzuki
from the book
Not Always So: Practicing the True Spirit of Zen
source:
https://www.lionsroar.com/letters-from-emptiness/
Read a
random quote
or see
all quotes
by Shunryu Suzuki.
Further quotes from the book Not Always So: