All we really need to do for practice is to study, reflect, and meditate. However, these days it is common in the East and West that desire for honor and gain creates problems. Imitation monks, phony lamas, fake tulkus, and false gods turn up, and because of this, it is difficult to find the right kind of study, reflection, and meditation. It is very important for everyone to be careful about this and try to see clearly what is genuine and what is false. If someone says, "I am a lama," or "I am a tulku," or "I am a god," we do not have to immediately follow them. First, investigate to see whether they are genuine or not and whether we should make a connection with them. It is important to use our critical faculties along with giving up attachments.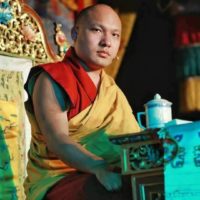 17th Karmapa
from the book
Traveling the Path of Compassion: A Commentary on The Thirty-Seven Practices of a Bodhisattva
translated by
Ringu Tulku & Michele Martin
Read a
random quote
or see
all quotes
by the 17th Karmapa.