It seems that scientific research reaches deeper and deeper. But it also seems that more and more people, at least scientists, are beginning to realize that the spiritual factor is important. I say 'spiritual' without meaning any particular religion or faith, just simple warmhearted compassion, human affection, and gentleness. It is as if such warmhearted people are a bit more humble, a little bit more content. I consider spiritual values primary, and religion secondary. As I see it, the various religions strengthen these basic human qualities. As a practitioner of Buddhism, my practice of compassion and my practice of Buddhism are actually one and the same. But the practice of compassion does not require religious devotion or religious faith; it can be independent from the practice of religion. Therefore, the ultimate source of happiness for human society very much depends on the human spirit, on spiritual values. If we do not combine science and these basic human values, then scientific knowledge may sometimes create troubles, even disaster….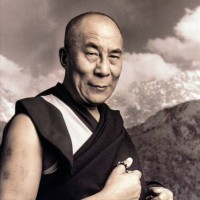 14th Dalai Lama
from the book
Sleeping, Dreaming, and Dying: An Exploration of Consciousness
Read a
random quote
or see
all quotes
by the 14th Dalai Lama.