Mindfulness of breathing is your island, where you can be safe and happy, knowing that whatever happens, you are doing your best thing.
This is the way to take refuge in the Buddha, not as mere devotion but as a transformational practice.
You do not have to abandon this world.
You do not have to go to heaven or wait for the future to take refuge.
You can take refuge here and now.
You only need to dwell deeply in the present moment.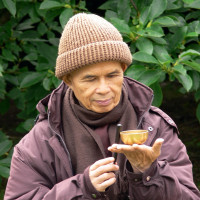 Thich Nhat Hanh
from the book
Living Buddha, Living Christ
Read a
random quote
or see
all quotes
by Thich Nhat Hanh.