Do you really want to support the center, support the dharma, and benefit sentient beings, with all three of your doors and not just your mouth? Then you need to be flexible and accommodating, rather than wanting everyone else to help and support you in your idea. We are all one family, all trying to support the dharma because that way we can be sure we are bringing benefit to sentient beings in a meaningful way. We are none of us at the level where we should be proud, or want to be the boss. None of us have those kinds of qualities and none of us are omniscient! But all of us can try to be more harmonious and more humble, which is how we can develop those qualities in ourselves. Each person should check his or her own mind continuously to see when the faults of stubbornness and self-importance creep in. When you see your faults, then you can work to eradicate them. That is how you develop qualities. That is how you clean up your mindstream and become worthy of praise and respect. You don't get praise and respect by yelling the loudest; if you did, babies would be above all others. We don't need more babies crying or boasting. We need people working together smoothly, watching and helping intelligently, like grown up human beings. That is not beyond our level. Therefore, if you really want to help, watch yourself carefully. Be patient with each other. Have humility and discipline, which means being in control of your three doors, rather than everything being under the power of your five poisons. Then everything will be very good: in the center, with the sangha, with the dharma, everything. That way, it works!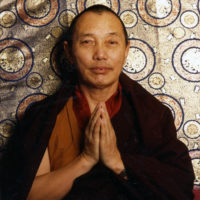 Gyatrul Rinpoche
Message to Orgyen Dorje Den Sangha
source:
http://vimalatreasures.org/free-downloads.aspx
Read a
random quote
or see
all quotes
by Gyatrul Rinpoche.