The most happy thing in my life, the most fulfilling thing is to work for and to benefit sentient beings. Even just the mere thought to cause happiness to sentient beings, to benefit them, to free them from suffering – this is the best offering to all the buddhas and bodhisattvas, this is the best offering, the best puja, this is what pleases their holy minds the most.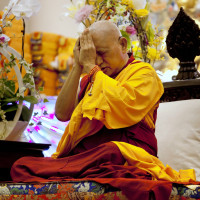 Lama Zopa Rinpoche
source:
http://www.fpmt-ldc.org/announce_losargreetings08.php
Read a
random quote
or see
all quotes
by Lama Zopa Rinpoche.