Suppose someone says something that angers you. Your old pathway wants to say something to punish him. But that makes us victims of our habit energy. Instead, you can breathe in and say, "Unhappiness is in me, suffering is in me, anger is in me, irritation is in me." That is already helpful, recognizing your feelings and helping you not to respond right away. So you accept that anger and irritation in you, and smile to it. With mindfulness, you look at the other person and become aware of the suffering in him or in her. He may have spoken like that to try to get relief from his suffering. He may think that speaking out like that will help him suffer less, but in fact he will suffer more.

With just one or two seconds of looking and seeing the suf-fering in him, compassion is born. When compassion is born, you don't suffer any more, and you may find something to say that will help him. With the practice, we can always open new neural pathways like that. When they become a habit, we call it the habit of happiness.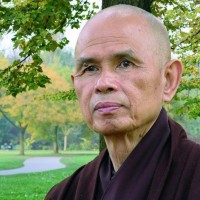 Thich Nhat Hanh
source:
https://www.facebook.com/pages/Thich-Nhat-Hanh-gems/319228401438031
Read a
random quote
or see
all quotes
by Thich Nhat Hanh.