The basis of the mahayana practice differs from the hinayana in that one does not practice abandonment, rejection, etc. Instead, in mahayana, one deals with one's behavior in a manner of transformation. For example, if the desire to harm another sentient being arises on the crest of a wave of great anger, then one immediately applies the antidote of compassion; the energy of the anger is thereby transformed into compassion. One does not deal with an emotion simply by cutting it off; rather, one uses compassion to transform it on the basis of its inherent insubstantiality.

In their ignorance, sentient beings think all that they experience is real, and their misconception entails their experiencing a great deal of suffering. Ones sees that all sentient beings are experiencing the illusory manifestations of the three bodies (the fully ripened, the habitual tendency, and the mental bodies), and that they are completely locked in these illusions. Recognizing the habitual clinging of these three categories of sentient phenomena as being only illusory appearance, then one recognizes emptiness.

By recognizing that one's delusion and habitual clinging cause suffering, an intense compassion can arise. The recognition of emptiness itself is referred to as wisdom, and the arising compassion is referred to by the term means. The path of recognizing the emptiness of these three categories of phenomena, and of developing compassion for all those experiencing such delusion, is the path of mahayana, and this path has its pinnacle in the union of means and wisdom.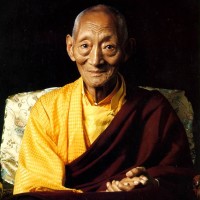 Kalu Rinpoche
from the book
Gently Whispered: Oral Teachings by the Very Venerable Kalu Rinpoche
Read a
random quote
or see
all quotes
by Kalu Rinpoche.