The practitioner of self-liberation is like an ordinary person as far as the way in which the thoughts of pleasure and pain, hope and fear, manifest themselves as creative energy. However, the ordinary person, taking these really seriously and judging them as acceptable or rejecting them, continues to get caught up in situations and becomes conditioned by attachment and aversion.

Not doing this, a practitioner, when such thoughts arise, experiences freedom: initially, by recognizing the thought for what it is, it is freed just like meeting a previous acquaintance; then it is freed in and of itself, like a snake shedding its skin; and finally, thought is freed in being unable to be of benefit or harm, like a thief entering an empty house.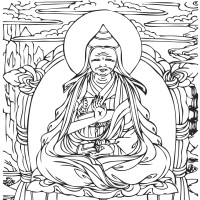 Patrul Rinpoche
quoted in the book
You Are the Eyes of the World
translated by
Kennard Lipman & Merrill Peterson
Read a
random quote
or see
all quotes
by Patrul Rinpoche.