Humans are set apart from other types of sentient beings by their ability to naturally connect with sharp intelligence and with nonviolence, loving-kindness, and compassion. From the moment we are born, we are constantly chasing after happiness, thinking of ways we can become happy and free from suffering, and we actively try to bring those desires to fruition. The propensities toward loving-kindness, compassion, and nonviolence we display in following this quest for happiness demonstrate what makes human beings unique.

For any species of sentient being to continue existing, the members of that species must have affection for each other and they must support each other. In order for our human community to survive, we must nurture and sustain connections of love, compassion, nonviolence, and altruism. These connections are what will allow us not only to survive, but to make our lives meaningful. If we concentrate on ensuring that these connections are present, that in itself will be enough.

All of the Buddha's teachings are based on refraining from harming others and engaging in helping others. It is therefore of great importance for Buddhists to have these two principles as the ground of their practice. The roots of Buddhist practice are the attitudes of altruism and non-harm. In other words, the roots of Buddhist practice are loving-kindness and compassion.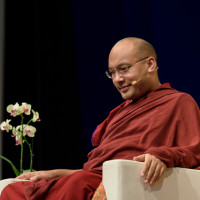 17th Karmapa
source:
https://www.lionsroar.com/the-power-of-unbearable-compassion/
Read a
random quote
or see
all quotes
by the 17th Karmapa.