Someone who begins to develop an interest in the teachings can tend to distance themselves from the reality of material things, as if the teachings were something completely apart from daily life. Often, at the bottom of all this, there is an attitude of giving up and running away from one's own problems, with the illusion that one will be able to find something that will miraculously help one to transcend all that. But the teachings are based on the principle of our actual human condition. We have a physical body with all its various limits: each day we have to eat, work, rest, and so on. This is our reality, and we can't ignore it.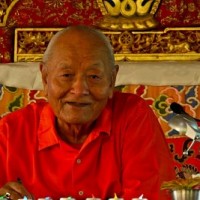 Namkhai Norbu Rinpoche
from the book
Dzogchen: The Self-Perfected State
Read a
random quote
or see
all quotes
by Namkhai Norbu Rinpoche.
Further quotes from the book Dzogchen: